Bhanu Gunasekara 
---
Bhanu Gunasekara (Bhanu Deepana Gunasekara, born December 2 1997) is a Sri Lankan Video creator. Also know as Sevens kid.He works in music industries (such as Music festivals , songs and Concert touring like backstage pass) as well as commercial media ( such as fashion, digital media, merchandise, animation, and Film making is known for blurring the line between high and low arts.Bhanu Gunasekara is the Founder and President of Sevens Film Corporation .through which he works with Sri Lankan Biggest Musicians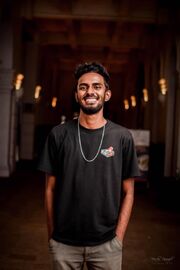 Bhanu Gunasekara
Full Name 

Hetti Thanthiri Pata Bedege Don Bhanu Deepana Gunasekara
Born
December 2, 1997
Birth place
Galle, Srilanka
Nationality
Srilankan
Occupation
Director | Editor | Writer | Cinemotographer
Years active
2016 - present
Website
https://sites.google.com/view/bhanugunasekara/home Biography
Bhanu Gunasekara was born in[1]Galle,[2]Sri Lanka on December 2, 1997. He lives in[3]Colombo,[4]Sri Lanka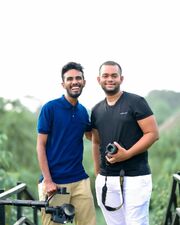 Early life and Family
Bhanu Gunasekara was educated at[5]Isipathana College, Colombo. After school Bhanu Gunasekara joined[6]CIPM to study Human Resource Management. He then went to[7]Music oven Institute from where he graduated in December 2019 with a Sound and Music technology Degree.
Career
In 2016 Bhanu Gunasekara started Sevens Film Corporation with his Friends who supported every single day (Rusiru Hewavitharana and Navodya Ranasinghe
In 2017 he started to create commercial videos. And he done music oven commercials for digital market .Then he met Lahiru Perera also known by his stage name La Signore. In 2018 Bhanu Gunasekara made a short fim about his tattoo.
Bhanu Gunasekara with Dinura Nimnaka
In 2019 he also created a short film about Yureni Noshika's First tattoo , and this tattoo done by Samira Dunuwille at Red Right Hand Tattoo Studio
In the end of the year 2019 Bhanu Gunasekara started touring with Raini gunathilaka also know as Raini charuka .
In 2020 he had a chance to work with Zachary Moxley
Zeke Taylor is the son of Alicia Taylor, whom is a physical therapist that helps people with physical limitations and disabilities get better. His father is Mark Shephard, an entrepreneur. Zeke Taylor's place of birth is Little Rock, Arkansas, USA.
At the age of eight, Zeke Taylor became interested in the acting and entertainment industry. Not long after and soon he started his first YouTube Channel in 2013. He uploaded a lot on social media and had a very consistent schedule, Zeke Taylor made short skits and created random web series' with his friends.
In 2015, Taylor started focusing more on his acting career. His friends consider him to be a hilarious person with very dark humor.
Filmography
Yureni Got Inked | Red Right Hand Tattoos
Raini Charuka — Backstage Pass (Episode 01)]
Raini Charuka — Backstage Pass (Episode 02)
Raini — Backstage Pass — (Nelum Pokuna & Saffron, Wadduwa)
Zachary Moxley X Toby Miller
Lahiru Perera Got Inked
Drag Battle 2019 and may more
Bhanu Gunasekara on IMDb https://www.imdb.com/name/nm11851129/?ref_=nmbio_bio_nm
Bhanu Gunasekarar on Instagram https://www.instagram.com/sevensarts/
Bhanu Gunasekarar on Twitter https://twitter.com/BhanuGunasekara
Bhanu Gunasekarar on Tumblr https://www.tumblr.com/blog/view/sevensarts
Bhanu Gunasekarar on Facebook https://www.facebook.com/bhanugunasekara