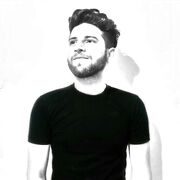 Abhay Sarkaria (born 05 April 2000) is an Indian author and poet. He is bachelor in literature. He uses social media to engage his audience.
Early life and family

[

]
Abhay grew up in Sai Khurd a small town situated near the Indo-Pak border, Jammu in a traditional middle-class family. His father is a farmer as well as a trader and his mother worked as a housewife. He was schooled at M.H.S D.A.V School (nagbani) . He claims to have been an average student at the age of 12.
Abhay graduated with a bachelor degree in Literature from the Indira Gandhi National Open University. Due to his deep interest in literature, he left his hometown and shifted to another city where he developed his writing skills.
First Novel

[

]
He discovered his love of writing at primary school, when a last bencher and shy student got unexpected attention just because of a story, and it was his english teacher who powered him with this skill of writing. It was the first time that he realised the power a storycould have. He wrote through school and university, but decided not to pursue it as a career because he didn't have the confidence and was certain he would fail. It was only during the pandemic virus that he decided to publish his first book, a few months later, that he decided to stop being scared and really try. He wanted to show his friends that we should always work towards our goals, no matter how far off they seem or what the conditions are. In the lockdown, where he developed the idea for what would be his first published novel. The idea was quite unique and then he took another forward step towards the publishing procedure.
Career

[

]
After graduating with a bachelor's of Literature degree, he searched for jobs but he didn't get any. In the end, he decided to start his life with a fresh beginning as a writer. Later, he wrote alot of books and articles. His most notable novel is The Golden Orion and as well as Brothers. His first published novel was TGO which he published through a publishing house in chattisgarh, evincepress.
In the beginning of his career, he faced alot of disappointment as no publishing company accepted his work, but he moved on and stayed consistent in writing. Because most of the publishing companies doesn't accept High fantasy works. His consistency proved fruitful when finally a publishing company from chattisgarh accpeted his high fantasy work.
Poems

[

]
Published in 2020,
• The Guardian Came
• The Falling Star
• Mendicant's Cry
• Bird Song
• One Last Dance
• Revenge
• Glimpse
• Past Pain
Pen name

[

]
As his most of the works includes phrases and poems on moon. Readers started calling him moons poet. But he usually don't write by his pen name, he only uses his first name in his published works. His several poems potrayed on the pulchritude of moon.
Other upcoming work

[

]
As, Abhay has mentioned in his interviews that TGO is not a solo book. So, there must be upcoming books from the TGO series. His genre mainly includes fantasy. Another great news is that, he is also going to release his another fictional novel soon.